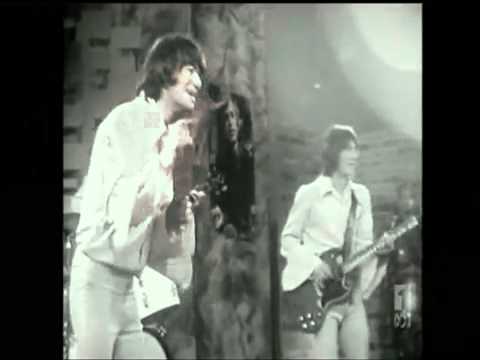 [Vince Lovegrove on stage]
The following story, lovingly told, is, according to its author, Vince Lovegrove, "the truth, the real story of how Bon Scott met AC/DC for the first time." Indeed, it seems to move carefully and systematically through the significant moments of Bon's life. Vince, who first played together with Bon in the 1960s in Perth, in a band called The Valentines, was never far away from the major events in Bon's career. So it makes sense to get the story from the horse's mouth.
Vince first posted this story to the myspace page of his current band, the Mongrels of Passion. I emailed him to ask if I could reprint the story here.
When Bon Scott First Met AC/DC – the real story
by Vince Lovegrove
If you are into AC/DC, you would have read dozens of versions of how Bon Scott met AC/DC – you would have read them in books or articles, or seen them on documentaries. But like so many other versions of events to do with Bon Scott's career – including his time with AC/DC, with whom he spent just six years – most of the stories you have read have been wrong, lacking in fact, detail and research.
The authors either made up the stories or gave their own version of something when they were not there – or they were lazy and researched other people's versions instead. And these were also wrong.
None of the accounts have been able to capture the nuance of the times, and the people they have resourced were either not there or their memories were faded. It has been a bit like Chinese whispers. Even the two so-called reference books regarding Bon Scott and AC/DC are wildly inaccurate with so many events and facts. Indeed, it is quite disconcerting to continuously read these re-hashed inaccuracies, year in and year out.
One of the events recorded incorrectly in every single book, article and documentary on Bon Scott and AC/DC is the manner in which Bon and AC/DC met. Nobody so far has got it anywhere near the truth.
Here then for the first time in 34 years is the truth, the real story of how Bon Scott met AC/DC for the first time.
:::
My friendship with Bon Scott goes back to 1966 when we were lads, in Perth.
Bon was a 19-year-old postman in Fremantle, Western Australia, and I was an 18-year-old sales assistant in Pellews Menswear, which was conveniently situated just around the corner from the post office.
Ron, as his mother Isa still prefers to call him, was the drummer in a band called the Spektors, and I was the singer in a band called the Winztons with my friend, Ted Holoway, who was the rhythm guitar player. The Spektors and the Winztons were the top two teen bands in Perth.
Ted and I decided to form a new band, to be called the Valentines, half the members being from our band, the other half from the Spektors. We wanted Ted's school days friend, Wyn Milsom, as the lead guitar player, and we wanted Bon Scott in the band – but as a second singer, not a drummer.
Although Bon beat out the rhythms with Spektors, during the set he would swap places with lead singer John Collins and belt out a couple of songs. When he sang, Bon took off into charisma-land; his eyes would twinkle, his brows would slightly raise, his lips would purse into an impish grin, his swagger demanding attention.
It was obvious to Ted and I that Bon had a raw, unique sounding voice which would be perfect as an offset to my rather flimsy pop voice, as we looked to creating our strange mixture of Sam and Dave soul, Beatles pop and Easybeats rock'n'roll.
We'd practice every weekend, alternatively, between Bon's lounge room, my lounge room, and Ted's garage. We especially liked practicing at Bon's house because his mother made us the most beautiful, fluffy, hot scones – with home made cream – to go with our cups of tea.
We dreamed the dream but had to leave an isolated Perth to live the life.
:::
The Valentines soon became one of Australia's most popular bands of the sixties – I can even remember a young Jimmy Barnes in the audience when we regularly went to Adelaide for shows. Probably dragged there by his big brother, John Swan, an unsung catalyst for much of the fire in Adelaide music in the seventies.
We were very poor, almost starving, driving down the highways, absorbed with rock'n'roll, stealing people's front door milk money to survive, living on boiled potatoes, the dreams of success our mantra. We enjoyed a mad three years, the five of us, performing in every single poky hall and drug-infested club in tiny towns in every pocket of Australia. We slept in the van together, slumped over the equipment; we ate together, travelled together and were in each other's pockets almost 24 hours of every day – all for one and one for all. But as Bon so quaintly put it in the lyrics of one of his songs later on, 'It aint no fun waiting around to be a millionaire'.
We suffered near-malnutrition just to experience that hour or so on stage, our adrenalin-rush audience-feedback addiction satisfied once more in a fix of rock'n'roll performance. Our main charter, sadly at the start anyway, wasn't to achieve the brilliance of musicianship, but to live the life; we had many experiences, were run out of a couple of towns, had a few run-ins with the law; our charter was sex, drugs and rock'n'roll. I say this as a matter of fact, not a matter of pride, necessarily.
There was a distinctive English and Scottish tinge weaving its magic on the Adelaide music scene, courtesy of migrants who came and lived in places such as the satellite town of Elizabeth. The migrant population injected another ingredient into what was evolving as an Australian music sound. Their countries had spawned the new beat music of bands such as the Beatles, Rolling Stones and the Kinks, all spearheading the sixties social, cultural and music revolution. Our country, Australia, was out of the mainstream, isolated.
The music scene in Adelaide was exotic. Most of the musicians actually were English or Scottish or Irish, and they proudly carried the flag of their countries in their music.
Ask your parents about these local sixties acts: Doug Ashdown, Blues Rags 'N' Hollers, The Blues Syndicate, The Clefs, Peter Tilbrook, The Twilights, Terry Britten, Kevin Peak, Alan Tarney, The Masters Apprentices, Bev Harrell, The Vibrants, The Bobby James Syndicate, Barrie McAskill, the Zoot and one of my all-time favourite bands, the James Taylor Move.
Adelaide's contribution to Australian music continued into the seventies.
:::
When the Valentines split in 1970, we all went our separate ways, and I headed home for Perth via Adelaide.
My friend, Phillip Frazer was publisher of a magazine called Go-Set, so he asked me to set up an editorial section for Adelaide. One thing led to another for me – a television show on STW9 called Move, and a weekly music column in the News.
Bon, on the other hand, went up to Sydney and joined the Levi Smith Clefs. The group changed their name to Fraternity.
In the summer of 1971, thanks, in part, to the generous spirit and blind-faith-belief of Adelaide entrepreneur Hamish Henry, Fraternity moved from Sydney to Adelaide, where they lived a seemingly idyllic communal lifestyle on a seven-acre property 26 kilometres from the city, in Aldgate.
Fraternity were excellent musicians, led by bassist Bruce Howe who was a dogmatic, hard taskmaster, and he weaved his mentor magic on Bon Scott, confronting the boy from Kirriemuir to push the envelope. There is no doubt that Howe was a shape-shifter for Scott's approach to singing.
Fraternity's arrival in Adelaide was timely, the media awash with rock'n'roll.
Known as the 'Rock Station', radio 5KA was led by Paul Thompson, whose revolutionary concept on commercial radio led Adelaide to the cutting edge of music-oriented radio in Australia. Thompson went on to become the most successful radio entrepreneur in the country, being the force behind FM radio when it began, and heading the two most successful radio networks in Australia during the past few decades.
He was aided and abetted by a talented team, led by Barry Bissell, Bill Page, David Day, John Vincent and other assorted radio greats, all of whom now hold legendary status in the international radio and music industries. Music was at the heart of the matter, and the aforementioned were passionate about their love of music, especially Australian music.
I first met the 17-year-old Jimmy Barnes in the foyer of 5KA, when he asked if the station would employ him as a cleaner because he was broke.
Thanks to Channel Nine, I hosted a two-hour rock video show called Move every Saturday morning, and it featured local acts performing live, the occasional lip synch performance, interviews and video clips.
Move featured the first ever television performance of Daddy Cool singing Eagle Rock, the beginnings of Little River Band, and so many more. We programmed the bands that other shows refused to feature. Naturally enough, nepotism was alive and well, and the show featured my old mate Bon and Fraternity at every opportunity.
Move would not have been possible were it not for the far-sightedness and belief of Richard Boland, the former Promotions Manager and then Programme Manager of STW9, together with John Cronshaw, the director. The former convinced the suits at Channel Nine that a rock show was important for youth ratings, and he gave us carte blanche to be experimental. Both men had a vision when filming each act; instead of filming them in the staid atmosphere of the studio, or with sets, he would capture their performance outside – on the roof, in nearby stables, at the back of the studio, exposed beams and rafters adding to the look. It was a style of its own.
:::
A few months into 1972 and Fraternity left Australia for England, Bon marrying his beautiful blonde girlfriend, Irene Thornton prior to departure. In the slight vacuum left by Fraternity, a musical revolution was happening in Adelaide.
This was the beginnings of some of Australia's best-known rock bands; Led by Doc Neeson and the Brewster brothers, the acoustic Moonshine Jug and String band soon became the electric Angels, and Cold Chisel were known as Queen, with John Swan (Swanee) on vocals, and Don Walker on piano. Then they became Orange, and Swanee suggested his younger 17-year-old brother, Jimmy, as singer. Meanwhile, Walker moved to Armidale to complete his post-graduate degree in quantum physics. This was also the time when Graham Goble created his band Allison Gros, which eventually morphed into Mississippi, and then Little River Band.
Less than two years after leaving to crack the big time in Europe, Fraternity crawled back into Adelaide, their tails between their legs, the big time having eluded them. Bon and his wife Irene landed in Perth on their way home to Adelaide on December 28, 1973, to see Bon's number one female in his life – his mother, Isa.
Scott didn't waste any time, he had a strong work ethic, and after returning to his adopted home of Adelaide, he immediately began earning money doing any kind of work. He scraped barnicles from the bottom of boats, and he worked at the Wallaroo fertiliser plant.
Musician Peter Head befriended Bon. Head had been the leader of Adelaide's Headband, and was a virtuoso piano player.
Bon would go to Peter's home after a day shoveling shit, and show him musical ideas he had during his day's work. His knowledge of guitar was limited, so Peter began the process of teaching him how to bridge chords, and how to construct a song. One of the songs that resulted from these sessions was a beautiful ballad called Clarissa, about a local Adelaide professional ballet dancer. Another was the country-tinged Up In The Hills Too Long, which for me was a sign of things to come with Bon's lyrics; simple, clever, sardonic, tongue-in-cheek. Bon always carried a standard spire-bound exercise book in which he wrote words and rhymes. That habit stayed until the day he died.
Head had a make-shift band, the Mount Lofty Rangers, for out-of-work musicians and Bon was one of the many drifting lead singers. Another was Glen Shorrock, yet another Adelaide legend, Robyn Archer. When Bon eventually was forced to leave Mount Lofty Rangers.
Bon was desperate for success, almost 28, and had not reached the fame and fortune he desired. The pressure was on and he felt trapped, frustrated, almost too old, and without direction.
Around 11pm on May 3rd, 1974, at the Lion Hotel in North Adelaide, during a rehearsal with the Mount Lofty Rangers, a very drunk, distressed and belligerent Bon Scott, had a raging argument with a member of the band, and he stormed out of the venue, threw a bottle of Jack Daniels onto the ground, and screamed off on his Suzuki 550 motor bike.
Three hours later, I received a phone call from Irene at Queen Elizabeth Hospital. Bon was in a coma, near death, after a disastrous collision with a motor car.
I drove to the hospital, and there was Bon as I had never seen him; limp, smashed to smithereens, his jaw wired, most of his teeth knocked out, a broken collar bone, several cracked and broken ribs, deep cuts across his throat. He was in a coma for three days. He remained in hospital for 18 days.
This happened before Bon was famous and Irene tells me that before he went into the coma that night, the nurse sarcastically said to her: 'He says he's a singer'.
:::
When he was released from hospital, he stayed alternatively between Irene's home, and my home which I shared with my wife, Helen. We owned a booking and management agency called Jovan, and we managed Cold Chisel and a group called Stars. We variously booked into Adelaide most major Australian acts such as Lobby Loyde, Kevin Borich, Skyhooks, Chain and Buster Brown, with Angry Anderson on vocals.
There was a young, dinky little glam band from Sydney that we both loved called AC/DC. Leaders of the band were brothers Angus and Malcolm Young. I knew their big brother, George from the old Valentines days. He and Harry Vanda wrote us a few songs, and Bon idolised Stevie Wright.
Malcolm and Angus were impatient fireballs, hungry for live performance experience and success. Helen and I loved the young AC/DC with their satin, knee length pantaloons, and school uniform.
Bon Scott was now recovering from his motor bike accident. He was hobbling around on crutches, sometimes a walking stick, and was earning money by helping Helen and I paint the office, placing posters, and other assorted promotion jobs.
Prior to another AC/DC visit, George Young phoned me and said the band was looking for a new singer. I immediately told him that the best guy for the job was Bon. George responded by saying Bon's accident would not allow him to perform, and that maybe he was too old.
Nevertheless I had a meeting with Malcolm and Angus and suggested Bon as their new singer. I told them that Bon could rock them into the ground and leave them for dead, so they asked me to bring him out to the Pooraka Hotel that night, and to come back stage after the show.
Watching the band out front Bon was impressed, and he immediately wanted to join the band, but thought they may be a bit too inexperienced and too young.
After the show, backstage, and Bon expressed his doubts about them being 'able to rock', and the two Young brothers told Bon he was 'too old to rock'.
The upshot was that they had a jam session that night in the home basement of Bon's former mentor, Bruce Howe, and at the end of the session, at dawn, it was obvious that AC/DC had found a new singer. And Bon had found a new band.
AC/DC, with Bon Scott as vocalist, toured the world virtually non-stop for the next five years, paving the way for what would eventually become rock'n'roll history.
:::
We kept in touch during those years, and I saw him in 1978 in Atlanta, Georgia. I was filming a documentary about Australian music, and AC/DC were headlining a concert. The group had been non-stop touring America and Europe for almost three years at that stage, and they were getting close to breaking through internationally, but that was still 18 months away.
After the show, Bon and I went back to his hotel, the Peachtree Plaza Hotel.
Sporting a knee-length leopard skin coat, black suede ripple sole shoes, and skin tight blue jeans, he looked tired. A gaggle of female Bon fans followed us to his hotel room. We partied and flirted until the early hours, the girls left, and my old singing mate and I had our first heart-to-heart conversation for about 18 months.
He told me he was tired of it all, that he hopes the band 'cracks it soon'. He said they were nearly there, that he could smell the success, but if they didn't make it in the next year or two, he would leave the band. He said there still wasn't much money, that he was still broke. He told me he would come back to Australia if it didn't happen soon for AC/DC. He told others he would stay in America. I am sure he told different people a different story. But he was certainly lonely. There was unquestionably an undercurrent of resigned sadness behind his impish grin. He was 32 years old.
Less than two years later, on February 19, 1980, Bon Scott was found dead, alone, slumped forward in a Renault car in South London. He had drunk himself to death, according to the coroner's report. A very lonely death, as it turned out. Those of us in Australia who knew Bon well, those of us who had known him since the sixties, could not quite comprehend how, on the edge of international success, he could die alone in a car, parked in a lonely London street, in the middle of winter, with not a friend in sight.
© VincentLovegrove
.ends.